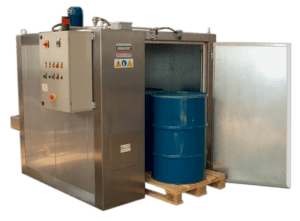 AMARC – HUTIRA heating cabinets
Heating cabinets are used for clean, safe, reliable and economical heating of materials stored in barrels and used in industry, where it is necessary to keep asphalt, resins, fats, oils and other viscous substances at a certain temperature or where it is necessary to increase their temperature before processing.
Technical parameters
Capacity of heating cabinets
The capacity of standard heating cabinets is 1 to 12 chambers designed for standard pallets or euro pallets with 200 litre barrels, or for 1000 litre IBC containers.
Heating source options
Electricity
Steam
Hot water
Diathermic oil
Temperature ranges
Two series of heating cabinets with operating temperature ranges up to 100 °C and up to 150 °C are supplied as standard.
Advantages of the product
The basis of efficient heat transfer is quality insulation and high airflow.

Heating takes place with the help of forced continuous ventilation through the heater.

The air in the cabinet is sucked upwards by the fans and then led through the air ducts through a set of heaters.

The temperature is controlled by a thermal regulator located on an electrical control panel with a temperature sensor inside the chamber.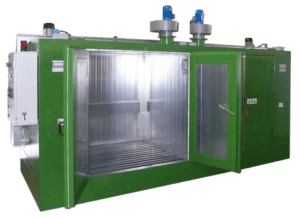 Standard bottom
The 0.3 mm sheet metal allows handling with a pallet truck.
Support frame with support legs
It allows handling with a forklift.
Collecting tub
Suitable for increasing environmental safety in cases of leakage of barrels / IBC containers.
The collecting tank can hold 1/3 of the total heated volume. Larger tanks are available on request.
Installation in a hazardous environment
AMARC heating cabinets can also be manufactured in accordance with ATEX 94/9/ CE, group II, category 2G in accordance with European standards EN 1127-1 / EN 13463-1, which are used for substances of group IIB.
Set for outdoor installation
In the case of outdoor installation, all internal and external sheet metal joints are sealed to prevent moisture from entering the thermal insulation. At the same time, a roof made of galvanized corrugated sheet is supplied in order to protect against the weather. The standard electrical control panel comes with a double cover panel for outdoor installation. The ATEX control panel is classified as IP 66.
Control
PID control: to ensure more precise regulation

Daily/weekly timer: for automatic switching on/off of the cabinet

Cycle timer: for setting the heating cycle for a given time at a given temperature

Graphic software: colour touch screen LCD TFT (3.5" or 5.7"), temperature programming, very easy to use